After discontinuing its Windows 10 Mobile platform, Microsoft has shifted its focus to more established smartphone OS – Android and iOS. Android, in particular, is a far greater deal for Microsoft, not just because of its enormous user base, but also for its open nature, giving Microsoft the liberty to offer a better integration with Windows 10.
Over the past few months, Microsoft has released a long list of innovative apps for Android that are far from its conventional and core services like Office, Skype, Outlook, OneDrive, etc. With all their interesting features, all the below-mentioned Microsoft apps for Android will literally make your phone unputdownable, while, obviously, being productive as well.
1. Microsoft Launcher
Microsoft has created a solution for the people who aren't pleased by their Android device's heavy skin filled with bloatware. Earlier known as Arrow Launcher, the Microsoft Launcher brings an all-new UI to the Android devices with tons of customisable options, making your device look and behave exactly the way you want it.
Gestures play a big part in this launcher with them being present almost everywhere, and as said earlier, they can be customised to the minutest setting. Continue on PC is a neat feature letting you continue doing your task on a connected Windows 10 PC. While Bing provides a set of beautiful wallpapers, there is a personalised feed that brings together all the information that you might need throughout the day in one place.
2. SMS Organizer
In this time of online messaging apps, the job of SMS apps has reduced to almost zero, but still, they somehow manage to remain cluttered. The SMS Organizer app from Microsoft automatically organises all your messages into three categories – Personal, Transactional, and Promotional. Plus, the app also reminds you of time-bound events like meetings, journeys, and bill payments.
Checking PNR status for trains and flights is possible from within the app and the SMS Organizer also backs up all your messages to keep them safe in case you switch your device. The SMS apps these days are used mostly for receiving OTPs and the app lets you easily copy it from the notification itself.
3. Office Lens
Another productivity app from Microsoft is the Office Lens that is designed to declutter your desk by saving a digital copy of all your notes, receipts, documents, business cards, etc. Even students can make use of its powerful image processing to save all their notes with just a click. They can be saved in your device's storage or OneDrive for availability across all your devices.
Office Lens automatically straightens and cleans the image up to make the documents readable, while there are multiple resolution options present to choose the image quality you want. With a single scan of business cards, the app can capture the details and save them in your contacts, without having to manually type even a word.
4. Photos Companion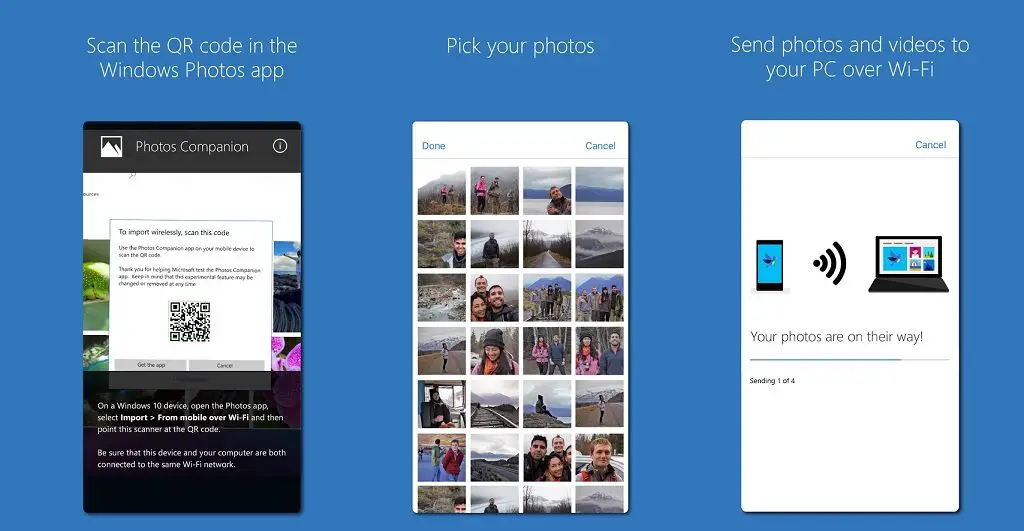 This is a relatively new app and is currently under testing, but we're compelled to include it in this list for the nifty features it offers. Photo Companion is a simple app that allows you to send photos from your Android phone to any Windows 10 PC. The transfer takes place over Wi-Fi and the process is as simple as tapping a couple times.
In the blink of an eye, the photos can be transferred to the PC securely and all it takes is to scan a QR code on the PC using the Android app, selecting the images to send and click Done. This app counters Bluetooth connection that takes much longer, thanks to the need for pairing the devices and slow transfer speeds.
5. Cortana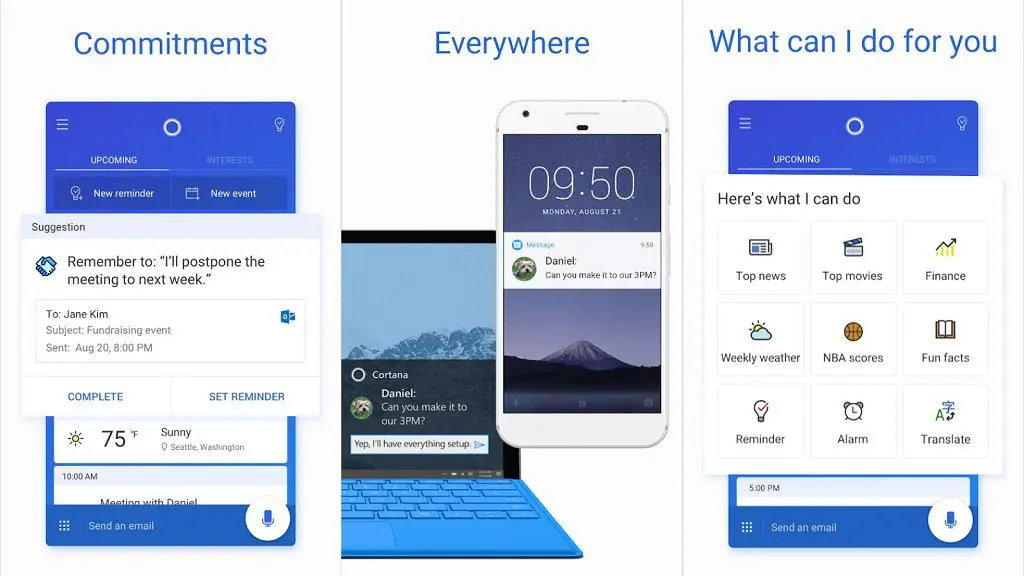 Android may already have a voice assistant readily available, but Cortana solves a purpose that even Google Assistant doesn't. There are times when you are working on your PC and you don't want to pick your phone each time a notification pops up. Cortana can sync your Android phone notifications to your Windows 10 PC, given both of them are logged in with the same Microsoft account.
Not only can you view the notifications in real time, you can even interact with them, including replying to the messages, etc. Alerts like missed calls, SMS notifications, and others from third-party apps can also be synced for being received on PC. And you can always use Cortana as a usual personal assistant.
6. Microsoft Edge
For the people accustomed to using Microsoft Edge browser on their Windows 10 PC, Microsoft has introduced a mobile avatar of the browser. Both in terms of aesthetics and functionality, the Android version of the browser shares a lot with its Windows 10 counterpart, bringing a familiar feel to the users. The company has also introduced several tools for a seamless integration between the two.
Probably the most popular and useful among all is the Continue to PC feature that allows you to continue reading the website on your connected PC with just one click on your Android phone. Plus, you can always share the browsing history, saved passwords, and other information between the two devices while being signed-in using a single account.
7. Next Lock Screen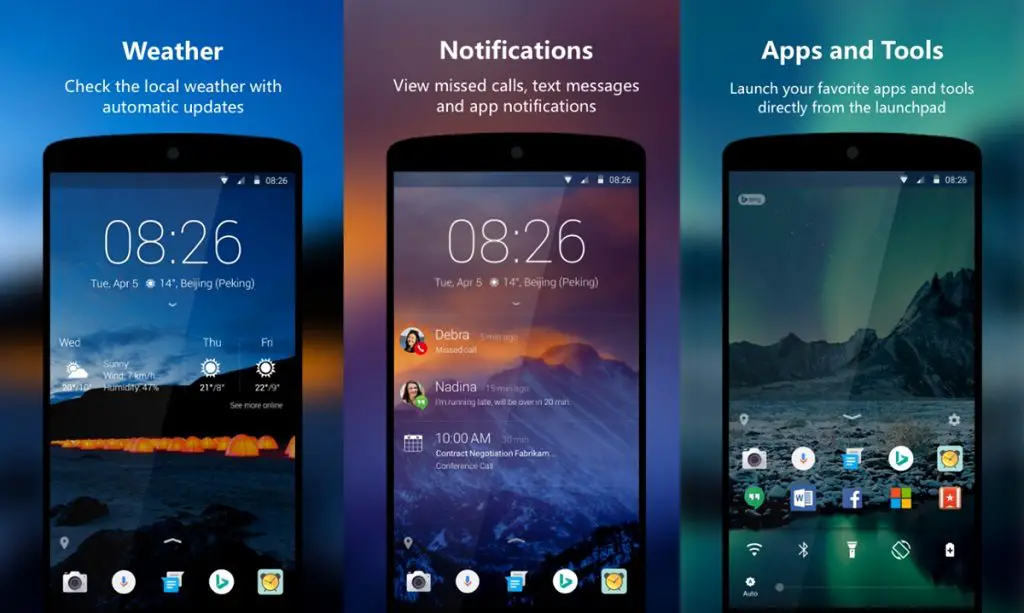 Using this app on your Android phone, you will probably need to pick up the phone less number of times while being busy working. This is done by bringing all the necessary and required information to the lock screen, while personalising it to your needs and helping you to be much more productive at work. Like the Microsoft Launcher, this lock screen app is also quite customisable.
It comes with support for custom unlock option along with detailed and interactive notifications from all your messaging apps. Speed dialling from the lock screen itself is supported, while certain apps, tools, weather, and calendar can also be accessed from the lock screen. For music playback, the app supports most of the popular apps and you can choose the desired wallpaper for your device's lock screen either from your gallery or Bing Wallpaper.
8. Microsoft Hyperlapse
Ever wanted to shoot those cinematic videos from your Android phone? Well, this Hyperlapse app from Microsoft can help you capture steady time-lapse videos with a ton of customisable options to choose from based on your need and taste. The best part is that you can even use your existing videos to create time-lapse videos using the app.
It supports HD videos up to 1080p and can speed them up by up to 32x. The USP of this app is how stable the exported time-lapse video is, which is an aspect most other apps fail at. You can save the videos even in the device's microSD card and the exported videos are easy to share on the popular social media platforms.
You might also like
---
More from Android
---
In the past several years we have seen several mobiles, notably high-end ones, which have attained the market with no …
A couple of days are left for the launch of iQOO 3 5G since the launch is set to occur …
While brands are competing against each other for the foldable smartphones even we have seen a few foldable smartphones from …
Editor Picks
---